CABS-flex method simulates protein flexibility. CABS-flex uses CABS coarse-grained protein model as a simulation engine - CABS model design and applications has been recently reviewed by Kmiecik et al. Coarse-Grained Protein Models and Their Applications.
The picture below shows comparison between all-atom representation (left) and CABS coarse-grained model representation (right) for an example 4-residue protein fragment. In CABS, single amino acid is represented by 4 atoms (or pseudo-atoms): C-alpha (CA), C-beta (CB), center of the mass of Side-Chain group (SC) and center of the peptide bond (cp).

The input structure is used as a starting point for the CABS simulation. The resulting trajectory is automatically analyzed and processed to provide the useful description of protein dynamics, see the CABS-flex pipeline below.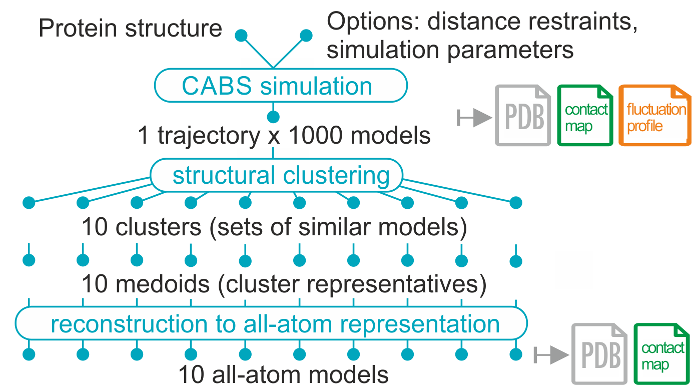 CABS-flex method provides a flexible simulation environment with many additional advanced features that are available in CABS-flex standalone version at: https://bitbucket.org/lcbio/cabsflex